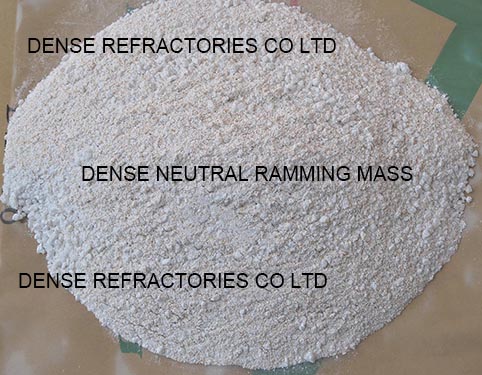 Dense Refractories Co.,Ltd. the world's leading producer of neutral ramming mass,alumina Spinel forming dry lining material for unalloyed,alloyed and investment steel casting,Neutral ramming mass lining for made Stainless steel billet,middle carbon steel billet,foundry industry,induction furnace,neutral ramming mass for induction furnace lining materials.
high alumina castables refractories,manufacturer and export neutral ramming mass,alumina Spinel forming dry lining material for unalloyed,alloyed and investment steel casting,foundry industry,induction furnace,Castables refractories,production of Castables refractories include High Property Tabular Alumina Castables Refractory GT-20,High Pure Tabular Alumina Castables Refractory,Castable,Dense Cast Low Cement Base on Tublaralum Sinter,Castable High Strength Corrundum For Kiln Nose Ring,Tabular Alumina,Spinel Castable Refractory,High Alumina Castable Low Cement LC-160,High Strength Alkaline Resistant Castables Refractory 13NL,Dry Alumina Ramming Mass based on Corrundum for melting steel in Induction furnaces and Middle Frequency,Alumina Spinle Ramming mass,Tabular alumina spinel ramming mass,Dense Refractory Castable for circulation fluidized bed boiler(CFBC castable),Dense Refractory Castable, Castables Refractories For Heating Furnaces,precast shapes,precast shapes for the Heating furnace H/T support..also we can supply Fire Clay Bricks.

our products comply with international quality standards and are greatly appreciated in a variety of markets around the world. Our castable refractories have already export to U.S.A. Europe, Italy,Greece, German,Spain,Mexico, Russia,Turk,India, Pakistan,Japan, Korea,Taiwan etc country.
we now have over 25 employees.We are currently exporting 90% of our products worldwide.Our well-equipped facilities and excellent quality control throughout all stages of production enable us to guarantee total customer satisfaction.
Castables refractories is Unshaped refractories,have more description such as boiler refractory material,blast furnace stove alumina versus silica,refractory materials,castable boiler refractory,castable refractories,castable refractory material,castable refractory high alumina,boiler refractories cement,castable boiler refractory cement,alkali resistant refractory castable,steel fiber high alumina castable,castable refractory alumina,Refractory Castable aterials,fireclay castables refractories,germany insulating castable refractory cement,Refractory materials for electric arc furnace,insulating castable refractories,castable refractory cement,refractory castable produce etc.
Our Castables refractories products application in industries of Cement kiln,manufacturer of electric kilns and furnaces for industrial,metallurgy,petrochemistry,laddle lining,dry alumina spinel ramming mass,tabular alumina spinel ramming mass,dry ramming mass application in foundry,machinery, electric power,electric melting steel in Induction furnaces and Middle Frequency industry etc.
If you are interested in any of our products or would like to discuss a custom order, please feel free to contact us. We are looking forward to forming successful business relationships with new clients around the world in the future.
Online order Neutral ramming mass lining materials,High Property Tabular Alumina Castables Refractory and High Alumina Castables Refractory etc more Unshaped refractories,now.